Catastrophe à Attapeu : Séoul se sent responsable à 100%

août 6th, 2018 by

admin |
923 vues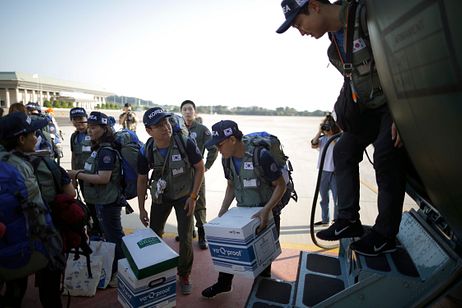 Members of a South Korea disaster relief team prepare to depart a Seoul military airport in Seongnam, South Korea on July 29, 2018.
Members of the South Korea Disaster Relief Team prepare to depart for Attapeu province, Laos, where the Xepian-Xe Nam Noy hydropower dam collapsed, at the Seoul military airport in Seongnam, South Korea, Sunday, July 29, 2018. (Kim Hong-Ji/Pool Photo via AP)




Laotian soldiers and officials move boxes of provisions provided by the Korean government for flood relief after the shipment arrived in Laos on Saturday. The Korean government on Sunday also dispatched two teams of doctors and aid workers to Laos to support rescue efforts.
Government sends rescue teams to Laos : The Korean government dispatched two teams of doctors and aid workers to Laos on Sunday to support rescue efforts after a dam breach last week left dozens dead and thousands without a home.
Korean Firms Face Questions in Laos Dam Collapse
Two South Korean firms are being criticized for their role in the construction of the faulty dam.


Catastrophe à Attapeu : Nang Sao Boa Phijika Bounkuang,
Responsable des volontaires de Vientiane.
En colère contre les responsables de la catastrophe.

Sur cette photo prise le 25 juillet 2018 et fournie par SK E & C, le président du constructeur, Ahn Jae-hyun (L), reçoit des informations sur les plans de sauvetage et de restauration dans la province d'Attapeu, endommagée par un barrage.
————————————————————————————


Séoul va envoyer une deuxième équipe de secours au Laos
SEOUL, 06 août (Yonhap) — La Corée du Sud va envoyer cette semaine une deuxième équipe de secours dans le sud du Laos, la première équipe devant revenir en Corée dans les prochains jours, a fait savoir ce lundi le ministère des Affaires étrangères.
Cette équipe partira mardi au Laos, qui a souffert des inondations causées par de fortes pluies et l'effondrement d'un barrage le 23 juillet. Elle est composée de 15 soignants et de 7 techniciens et aura pour tâche de soigner les personnes déplacées et d'empêcher la propagation de maladies contagieuses.
Le gouvernement sud-coréen va par ailleurs fournir 2.200 couvertures, 4.500 serviettes et autres biens de première nécessité dans le cadre de l'aide financière de 500.000 dollars qu'il s'est engagé à apporter aux victimes des inondations.
Source : http://french.yonhapnews.co.kr/news/2018/08/06/0200000000AFR20180806002700884.HTML
————————————————————————————

|01-08-2018| Nang Sao Boa Phijika Bounkuang (interviewée par THAI VOICE)
https://www.facebook.com/iamphijika
————————————————————————————


————————————————————————————

|25-07-2018| Nang Sao Boa Phijika Bounkuang (Présentation et remerciement de l'aide de la Thailande)
https://www.facebook.com/iamphijika
Posted in laos